Reebok RBK 7K Pump Hockey Skate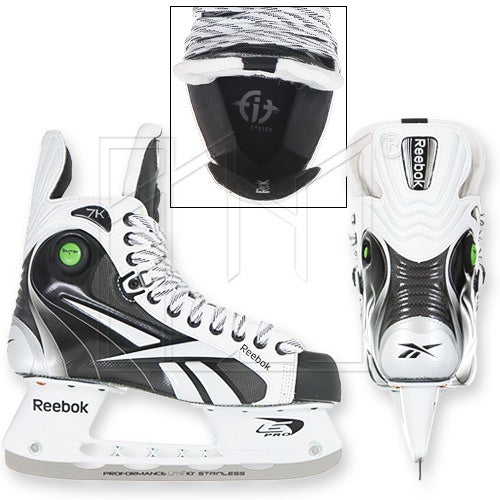 The Reebok RBK 7K Pump Skate is a cool looking black & white skate at half the price of the Reebok 11K.
Avaialble in the standard black trim, or white trim (pictured to the right) The RBK 7K Pump has most of the same features of the RBK 11K.
The pump was redesigned this year so it doesn't stick out as far and locks your heel down more securely. It's a nice feel with the 7 ounce felt tongue.
The RBK 7K Pump Skate has the lace lock that allows you to lock of the laces at the ankle, then lace your upper ankle independently from the lower part of your foot. The lace bite guard in the center of the tongue is a nice feature as well.
The 10" steel blade has small sections of the blade removed to decrease the weight and add more flex in the blade which makes it easier to skate faster.